If you are working at Infosys, Wipro, Accenture, Tech Mahindra, Tata Consultancy Services or any other Mass Recruiting Company, usually, IT-Services based Multinational Company.
You are one of those 300,000 employees (TCS as of March 2015)
+ 35,000 freshers (TCS aimed at hiring for the year 2015)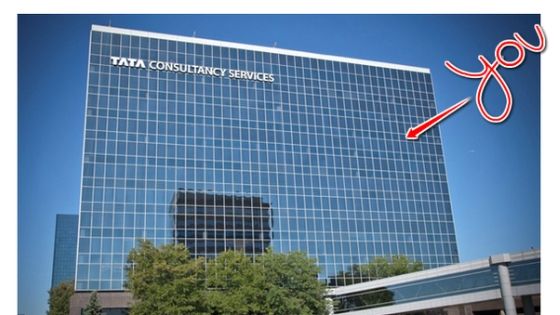 What you are :
You're nobody, nobody else knows you, except for your team, not even people whose product you're building.
You can NOT have an opinion/perspective Just do it the way they say.
You have No contribution towards growth of company (so for company you're not valuable or maybe little valuable)
Bonds with high compensation
Less salary (compared to Non-MRC MNCs or startups)
Less Hike / Raise
You will NOT choose your City/Project/Technology/Role.
You will spend more time with MS Excel than your soulmate :D
No or Very less exposure for most of the employes.
Dirty MNC politics, if the guy at top loves/gels in with worst guy, then that worst / least deserving guy, will be your Lead or Senior.
No Zeal, no Hard work will make you a person, you may like to be (easy/settled life), but you're a mediocre.
A startup is like a Tree, it strengthens with time not only stem but every branch of it.
In MRCs you're just the watering person for trees in exchange money and can't even sit in it's shade.
You will have to go through Written paper (very boring), Personal Interview and series of stupid courses to get a joining letter as a trainee who again have to go through maybe 1 yr. of training. to be able to do stuff you never want to.
There are many Mechanical, Civil Engineers recruited for TCS or other such MRCs, Imagine you're working with people who failed their stream/passion and going for something they never could relate to.
You may have to work under really bad Tech lead or with worst Team
Your value will depend on the Tech, Team, Lead they allotted you.
Even if you're Awsome, good at Technology which you're working with, your team co-members will be very probably not as much interested and hard working.
You will be part of a products like these (State Bank Buddy — Android Apps on Google Play) created at Accenture whereas you could have done something awesome.
You will have to work on something you may hate whereas there is something you may love to work, switching between Technologies / Teams or Projects is no easy work.
If you keep on working hard, like really hard you're guy other people Admire but still you're same to TCS, they may give you faster hike but still it will require you to at least pass a duration, after which only you're eligible for Hikes/promotions.
Working with dead Technologies or gonna-be-dead ones
Working with single tech for life (even if you hate it or want a change)
If they want they will shift you to other project with Tech you are not comfortable with or project which may have no growth.
To be clear I'm talking about very specific companies in this answer which recruit masses, and do IT services, these do not apply to other MNCs and they are anyday better than this.
If you want to change the way things are, read this :
Arpit Goyal's answer to A CS graduate who joined an IT company, but is interested in doing some challenging work, can do to get that kind of project?
Disclaimer: I never worked for any MRC, but I do have friends and seniors who are / were working at MRCs and shared their experiences with me.
I tried applying for a MRC once, it was way too boring and stupid that it was my last, I work at an awesome startup.
Originally written as a Quora answer https://www.quora.com/Tata-Consultancy-Services-TCS/What-is-the-dark-side-of-a-job-at-TCS/answer/Arpit-Goyal-14
I write on Startups, Technologies, Products and similar stuff
Read more from me @ dlotus or @ Quora | Arpit Goyal